Hi! My name is Alena Hagedorn and I am a passionate photographer.  I have been shooting fine art and travel photography for a number of years now with a growing love of night photography.  You can check out my fine art night photography at www.imagesbyalena.com .
On May 22, 2014, I married Debbie, my partner of 27 years.  Because it was not yet legal in Ohio, we married in Maine's Acadia National Park on a gorgeous beach.  It was truly one of the happiest days of our lives!  We had hired a fantastic photographer to shoot the memories of our event, but finding such an equality minded photographer was not so easy!  It was at that time that I began thinking that I would like to give other gay couples the same feelings I get when  look through my wedding day photos!  I want to share and capture the joy of that special day in my photography!  I wanted to SPECIALIZE in same-sex weddings!  What could be more rewarding?!
I would be honored to capture your loving day and preserve the memories for years to come!
Click here to check out more information about our gay and lesbian wedding photography services!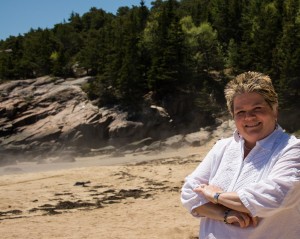 Me on my wedding day – yep I'm BEAMING!!!